Published February 8, 2022
Selly raised $2.6M from CyberAgent Capital, Do Ventures, Genesia Ventures, JAFCO Asia, and Kvision
Do Ventures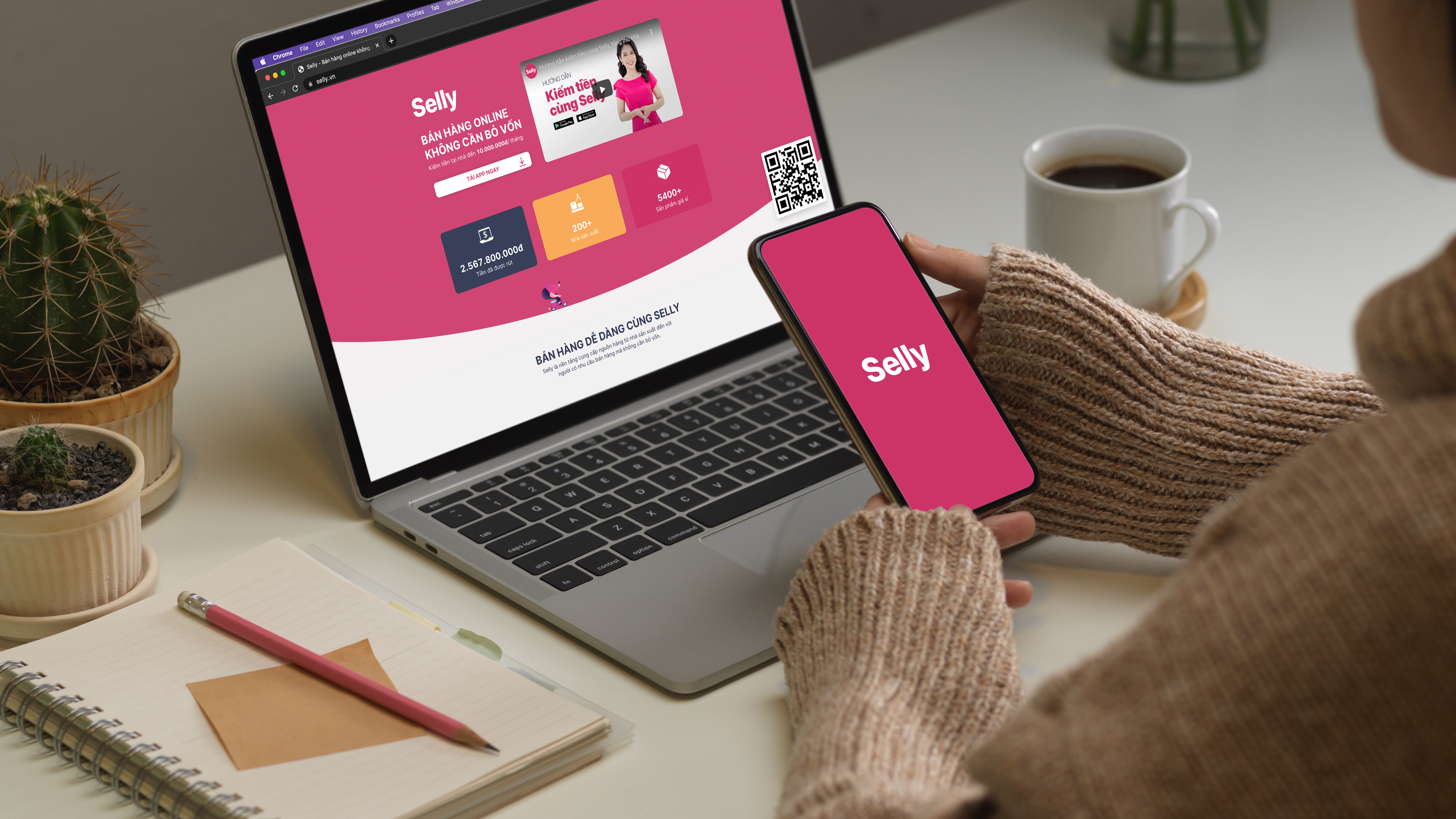 Selly – a Vietnam-based social commerce platform has raised $2.6M in a Pre-Series A funding round from CyberAgent Capital, Do Ventures, Genesia Ventures, JAFCO Asia, and Kvision. Less than a year after launch, Selly has created employment opportunities for hundreds of thousands of women and people who lost their jobs or income due to Covid-19.
According to a recent report by Accenture, the $492B global social commerce industry is expected to grow three times as fast as traditional e-commerce to $1.2 trillion by 2025. Selly is one of the pioneering social commerce startups in Vietnam as the social shopping trend is increasingly gaining popularity. After only 10 months of operation from April 2021, Selly has proven its potential with a 300x growth rate. The platform currently has more than 300,000 resellers, of which 80% come from lower-tier cities and mostly are housewives and people who have lost their jobs due to the pandemic. By starting their businesses on Selly, resellers could earn up to $1,500 per month.
Launched amid the ravaging pandemic, Selly has spoken to the need for jobs of many unemployed workers and housewives. The social commerce platform makes entrepreneurship accessible for anyone and helps people generate sustainable income without any investment or sales operations required. It only takes resellers a few minutes to source products from a wide array of high-quality goods listed on Selly's app, then share them with their network of friends. Once an order is closed, delivery will be handled by Selly with full after-sales services.
Furthermore, Selly is partnering with hundreds of suppliers who are traditional manufacturers and distributors in helping them venture into e-commerce to catch up with the rapid rise of the online shopping movement. Selly serves as an effective distribution channel that allows suppliers to reach out to customers in all corners of the country while taking care of the entire fulfillment process, and charging fees only when products have been successfully delivered.
"Selly's mission is to improve life quality for all Vietnamese people, especially housewives and people who are easily affected by economic fluctuations," said Tuan Thong, Founder & CEO of Selly. "The fresh capital will be utilized to improve product features to offer the best experience for our resellers and suppliers, as well as expand Selly presence in more remote areas in Vietnam so that everyone will have the opportunity to earn a sustainable income."
Amy Do, Investment Manager at JAFCO Asia, said: "One of the many reasons for our investment into Selly is the team's grand mission in helping people earn extra income without an upfront deposit, many of whom have lost their jobs and seen a reduction in In the difficult times of Covid, Selly has not only changed the way Vietnamese consumers shop for goods, but also provided a side hustle for resellers. We believe Selly is well-positioned to lead the social commerce space in the upcoming years and are glad to partner with the team in their early days."
Nguyen Minh Tuan, CEO at CyberAgent Capital Vietnam, said: "As Vietnam sees an e-commerce adoption rate of only 4.5% (compared to 18% in Indonesia and 35% in China) and an urbanization rate of 35% (compared to 56 % in Indonesia and 16% in China), the lowest among major economies in the region, Selly is poised to harness the tremendous untapped potential of Vietnam's e-commerce industry by leveraging the power of online communities."
----------------
About CyberAgent Capital
CyberAgent Capital, a member company of media services group CyberAgent Inc, has so far invested in over 350 companies globally. Of these, 50 have been listed on the Tokyo Stock Exchange. The fund focuses on technology-driven companies at an early stage from seed to Series A.
Some of the fund's notable investments include Kakao Talk (Korea), Tokopedia (Indonesia), Tiki (Vietnam), Foody (Vietnam), Batdongsan.com.vn (http://batdongsan.com.vn/) (Vietnam), and many others.
About Do Ventures
Do Ventures is a $50M early-stage venture capital fund that serves as a strategic partner for both startups and investors. The fund seeks investment opportunities in technology startups that can develop meaningful products and services to improve the lives of consumers in Vietnam and Southeast Asia .
With the philosophy "Grow by Doing", Do Ventures believes that for a startup to grow rapidly, its founders must have outstanding execution capabilities and be willing to do more to make more right decisions and outpace the competition. Do Ventures' notable investments include F99 , Palexy, Manabie, MFast, VUIHOC, Bizzi, and Validus.
About Genesia Ventures
Genesia Ventures is a Japan-based venture capital firm that invests in and supports seed and early-stage startups with a vision of creating a society of opportunity and prosperity for all, and aims to be a venture capital firm that plays a part in the development of Asia. With three offices in Tokyo, Jakarta, and Ho Chi Minh City, Genesia Ventures has invested in more than 100 startups under a total AUM of 120M$ so far.
About JAFCO Asia
JAFCO Asia is the leading venture capital firm headquartered in Singapore that invests in early-stage technology companies in Southeast Asia, India, China, and Taiwan. Currently, the fund has offices in Singapore, Beijing, Shanghai, and Taipei. The parent company of JAFCO Asia is JAFCO Co., Ltd, the largest venture capital company in Japan.
Some of the fund's notable investments include Shein, Palfish (China), Appier (Taiwan), Anymind (Singapore), and many others. The fund focuses on technology-related companies at an early stage from seed to Series A with a deep focus on the Asia Pacific region.
About Kvision
KASIKORN VISION Company Limited (KVision) is an investment holding company initiated under the mandate to source new value-enhancing capabilities for KASIKORNBANK GROUP (KBank Group), the second-largest commercial bank in Thailand. Our mission is to scout innovative firms and tech talents with flexible collaborative models including hiring, co-creating solutions, forming partnerships, offering subscriptions, forming joint ventures, and making direct investments (M&A). The fund focuses on technology-related companies from pre-Series A up with a deep focus on ASEAN , Korea, Japan, China, and Israel. Currently, the fund has offices in Thailand, Vietnam, Indonesia, Singapore, and China. With a strong financial position, KVision has an investment budget of more than 450 million USD. Some of the fund's Notable investments include Lines Corporation (Korea), Grab (Singapore), Jita (Thailand), Pawoon (Indonesia), SeedCom Group (Vietnam), KiotViet (Vietnam), etc.