Published December 16, 2020
SWITCH Singapore: Investors highlight Vietnam startup ecosystem's potential and resilience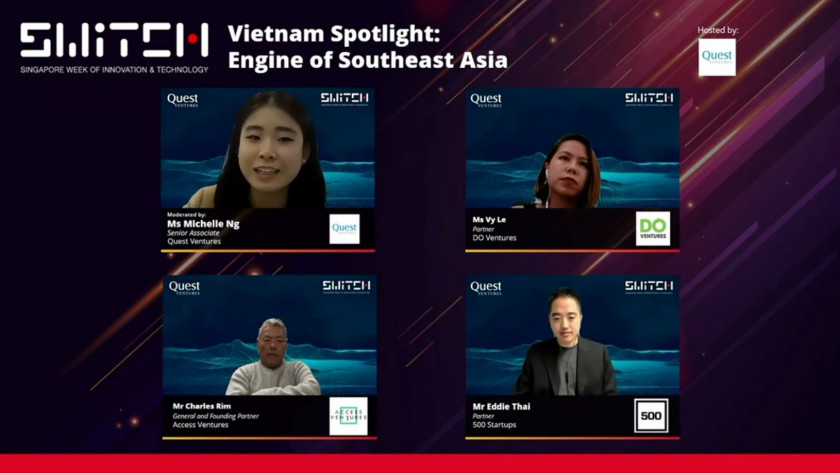 While many Southeast Asian countries still grapple with the economic impacts of the Covid-19 pandemic, Vietnam's startup ecosystem is becoming increasingly attractive to global investors, according to venture capitalists speaking at the Singapore Week of Innovation and Technology (SWITCH) conference in a talk titled "Vietnam Spotlight: Engine of Southeast Asia".
Vy Le, General Partner at Vietnamese firm DO Ventures, said investor sentiment in Vietnam has bounced back after the end of the second quarter, thanks to a resilient economy that is still on track to achieve positive GDP growth, as well as the effective curbing of Covid-19 spread. "We had a temporary setback in the first half of 2020, partly because of the limitations in travel. We [also] had a drop in terms of GDP growth, but it's still positive, which is quite critical compared to other countries," Vy said.
500 Startups Partner Eddie Thai added that Vietnamese startups and entrepreneurs showed remarkable resilience despite the dip in funding, largely because of their careful use of funds. "It wasn't that long ago that in Vietnam there wasn't a lot of capital to begin with, so the founders were already used to being frugal and cautious with their money," he said.
"That's a sort of discipline that should happen regardless of whether there is a pandemic; to be able to understand return on investment. For example, if you put in $1 in marketing, you need to know how much you'll get back in sales."
Charles Rim, General and Founding Partner at Access Ventures, cautioned that despite Vietnam's success at curbing the virus, spending power is still reduced, and many businesses should not spend too much money on marketing. Yet, there are some sectors where startups should go on the offensive, such as digital content, education, gaming and entertainment.
"Most companies need to be careful about cash, as we don't know when investors will come back strongly to provide cash injections," Rim said. "But there are other sectors where this is the time to get aggressive. There's a huge demand [for these products], and, because across the board fewer people are advertising, the ROI is much better."
Massive shift to online
Vy believes that the changes in consumer behavior that happened during the pandemic will likely stick, especially in terms of conducting more activities online. She drew parallels between the current situation and past crises, such as the SARS epidemic and the 2008 global financial crisis.
"Right after SARS in China we witnessed the strong growth of Alibaba. They launched Taobao during that period and many businesses learned how to operate online for the first time. After the global financial crisis in 2009, we witnessed the rise of fintech, from the P2P lending model to cryptocurrency," Vy said.
During the current pandemic, Vy saw that startups offering edtech and enterprise solutions tracked "tremendous growth". In the past, it was difficult to convince traditional businesses in education, logistics and other sectors, especially SMEs, to go online, as the players were very used to doing things manually and offline.
While the pandemic has forced many businesses to adapt and go online, Vy is also sure that Vietnam is on a natural path to become a more online society. "When I first started doing e-commerce 10 years ago, Vietnam only had about 20m to 25m internet users," she said. "Now we have 64m and after 2020 we will probably hit over 70m."
The talent advantage
All three investors agreed that Vietnam is becoming an attractive destination for global investors coming from Korea, China, Japan, and the US. Rim said that in a climate where Southeast Asian startups go regional, Vietnamese companies have the advantage of a large talent pool.
"I read a stat last year saying that Vietnam has four times more engineers per capita than Indonesia does," Rim said. "In Indonesia, you'll see a significant portion of startups with engineering teams that are not Indonesian but Vietnam doesn't have to suffer that."
Rim also notes that like in South Korea, Vietnam can experience accelerated growth as Vietnamese tech talent with Big Tech job experience – those who worked for companies like Facebook and Google – begin to return home. They will not just be founders, but they will also be available to join local startups and improve their quality.
Thai added that Vietnam used to have an advantage in terms of high quality talent at affordable salaries. Although the cost advantage is no longer as significant as before, the quality of tech talent continues to improve and this makes Vietnam the next economy to watch in the region.
Growing pains to watch
Despite the advantages that Vietnam's startup ecosystem has, investors and entrepreneurs have to clear some stumbling blocks. One of them is the relatively low GDP per capita, which indicates lower spending power. This is worsened by the economic impact of Covid-19, which Vietnam cannot completely escape in spite of its handling of the pandemic.
One solution for local startups is to go overseas in search of a bigger market. Rim said that although each country may have different cultures and demographics, startups like Grab show that cross-border, cross-cultural success is possible. In fact, Vietnamese entrepreneurs looking to expand in the region might have a better idea of the problems facing customers in developing economies compared to counterparts from other urban centers, such as San Francisco, New York, or even Singapore, said Thai.
Another potential problem for investors is corporate governance. Vy noted that some founders set up their companies in a way that is "not as transparent as in other countries," with shareholding structures that can be disadvantageous to investors. She and Thai agreed that investors need to guide founders on proper business structures and how to answer investors' questions.
Rim highlighted the importance of understanding local rules and dynamics to avoid disappointment. He said many foreign investors had trouble in the past exiting their investments and getting their money out of the country. Though the rules were opaque, Rim said the investors could have gotten their money out if they had followed the rules. 
"It's absolutely necessary to go through the proper steps and get the right counsel and support, so you don't get into trouble later."
Edited by S. Mani
Credit: